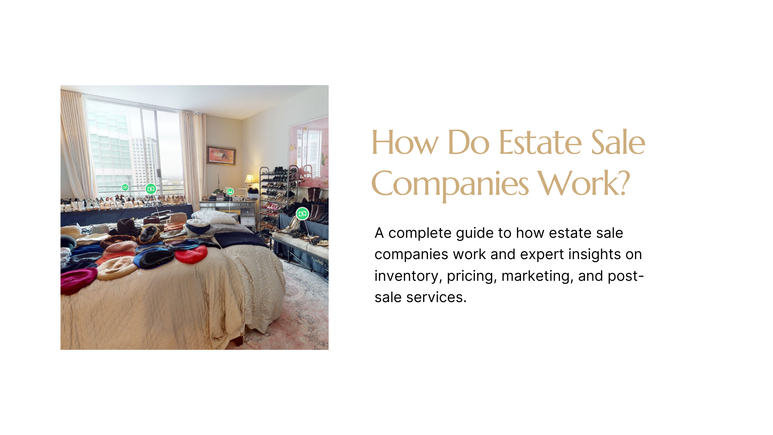 How Do Estate Sale Companies Work?
Demystifying Estate Sales: Your Ultimate Guide

Are you confronted with the task of managing an estate and need a solution for dealing with its contents? Whether you're downsizing, relocating, or overseeing a loved one's estate, the thought of sorting through a lifetime's worth of possessions can be daunting. Fear not! Estate sale companies are here to provide the expertise you need, and if you're wondering about the inner workings of these companies with the question, "How do estate sale companies work?" – you're in the right place. In this comprehensive guide, we'll peel back the layers of estate sales and introduce you to a reliable partner in this endeavor: Gold Standard Estate Sales.

Cracking the Code: Estate Sales in a Nutshell

Estate sales, also known as tag sales, involve the sale of personal belongings to the public. Typically organized when a family, individual, or estate executor needs to liquidate a significant portion of their possessions, estate sales require careful planning and execution. This is where estate sale companies step in, and Gold Standard Estate Sales stands out as a leader in providing top-tier services.

Unveiling the Process: How Do Estate Sale Companies Work?

Embarking on the journey of estate sale management involves several crucial steps, all of which Gold Standard Estate Sales is well-equipped to handle.
Initial Consultation: The process commences with an initial consultation, during which the estate sale company gains a deep understanding of your specific needs, goals, and timeline. Gold Standard Estate Sales takes the time to comprehend your unique circumstances, ensuring a customized approach.

Inventory and Pricing: Cataloging and pricing each item in the estate is a meticulous endeavor. Gold Standard's experts leverage their market expertise to accurately price items, enticing potential buyers while ensuring fairness.

Marketing and Promotion: Effective marketing is the cornerstone of a successful estate sale. Gold Standard Estate Sales harnesses various channels – from online platforms to social media and local advertising – to build anticipation and attract a diverse pool of potential buyers.

Sale Execution: The estate sale itself is a carefully orchestrated event. Gold Standard's experienced team handles everything from setting up the sale space to managing negotiations and transactions, all while delivering a seamless and professional experience for attendees.

Post-Sale Services: After the sale concludes, Gold Standard Estate Sales provides clean-up and donation assistance for any unsold items, ensuring a smooth and stress-free transition.
Your Trusted Partner: Gold Standard Estate Sales
For those situated in the greater Los Angeles area, including Santa Monica, Beverly Hills, Pacific Palisades, Newport Coast, and Coto de Caza, Gold Standard Estate Sales is your ideal companion for a successful estate sale. Backed by a wealth of experience and a dedicated team, they bring expertise, reliability, and a personal touch to every project.

Why Choose Gold Standard Estate Sales:
Experience: With years of experience in the estate sale industry, Gold Standard understands the market intricacies and possesses the skills to maximize the value of your items.

Personalized Approach: Gold Standard takes the time to grasp your unique requirements, ensuring a customized strategy that aligns with your goals.

Comprehensive Services: From inventory management to marketing and post-sale clean-up, Gold Standard offers a full spectrum of services, alleviating stress and streamlining the process.

Local Expertise: Operating in esteemed locations like Santa Monica, Beverly Hills, Pacific Palisades, Newport Coast, and Coto de Caza, Gold Standard's local insights and connections are unparalleled.
So, if you're ready to make the most of your estate assets and embark on a successful estate sale journey, look no further. When the question arises, "How do estate sale companies work?" remember that Gold Standard Estate Sales has the answers and the expertise to guide you. With their commitment to excellence and a proven track record, you can confidently take the next step.

Ready for an estate sale? Contact us today. Your partnership with Gold Standard Estate Sales awaits – let's turn your estate into a successful sale!